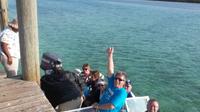 140 €
Island Hoping Experience from Freeport
Enjoy this full-day native experience exploring the quaint townships of rural east Grand Bahama. During this tour you will try your hand at line fishing and relax during a deserted island beach experience st Lightbourne's Cay. You will also have a fully-guided tour of Sweeting's Cay, led by a professional tour guide. This tour includes a seafood lunch and unlimited snacks and tropical drinks.
On this thrilling out island experience the small group of no more than fifteen participants will explore the quaint townships of rural east Grand Bahama, as you drive through communities such as Old Free Town, New Freetown, High Rock, Pelican Point, and McClean's Town. Along the way, you will listen to your tour guide sharing information on each of these settlements. Next you will visit Lightbourne's Cay, a deserted island which will host the beach experience. Here you can take part in exciting native games, 'shelling' or simply take a dip in the cool, crystal-clear water of Grand Bahama.

Next, you will continue on to Sweeting's Cay. This picturesque town is one of the island's premier local fishing villages and is located approximately 70 miles from the city of Freeport. Here you can enjoy a sumptuous seafood lunch. Your appetite will be in full-gear after fishing from the docks or mingling with friendly and inviting natives. Partake in a leisurely stroll around the island by foot. Snacks and exclusive tropical drinks will be available for the duration of the tour. This terrific native experience is an all-day tour and a must-do experience!