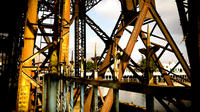 199 €
Inside La Boca Off the Beaten Track
Come with us to visit the most important neighborhood of BA -- one tour is never the same as another. This is a true walk through the most underrated and telling neighborhoods of Buenos Aires. While many turn down their noses at this crumbly, colorful barrio, we've actually had more than a few locals shed tears of pride and nostalgia on this tour. See the highlights of Caminito and get the heck off the beaten path to the real streets! We can pick you up at your hotel free of charge! Public transport included, taxis are extra.
9:30am (Those who choose to be picked up will start around now!) Travel to La Boca via taxi, Uber or public transport.
10am: Arrive in La Boca and begin the exploration alongside the original port of Buenos Aires! Learn it's true history, the fascinating tales of contraband, immigration and the British influence. Learn about the barrio's hero and the artwork as it relates to the soul of the area. 
Continue exploration through Caminito and share a sigh of relief when you realize it's hidden secrets and origins. 
Hop off the beaten path to visit important community landmarks, meet locals, try the authentic food & pastries (cost not included) and marvel at the current street art. See the stadium of Boca Juniors and discover their place in the history of the neighborhood & continue to explore the nooks & crannies along side your local guide.
1pm Finish up the tour and head back to your accommodations.