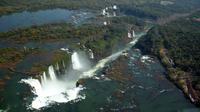 23 €
Iguazu Falls Brazilian Side Day Tour
Admire the panoramic views of the Falls while strolling along the 0.6-mile walkway, with the infamous "Devil's Throat" waiting for you at the very end
After being picked up from your hotel, you will cross the international border to the Brazilian side of Iguazu Falls. During this tour, you will be able to admire the panoramic views of the Falls while strolling along the 0.6-mile walkway, with the infamous "Devil's Throat" waiting for you at the very end.

The tour will conclude at a duty-free shop, where you will be able to spend an hour shopping for all different types of tax-free products and souvenirs. Afterward, the bus will be waiting to take you back to Puerto Iguazu Hotel. If you are not interested in shopping, simply let your tour guide know, and they will be able to arrange a transfer back to the hotel immediately following the tour.
Difficulty: though not a physically difficult excursion, the trip does include flights of stairs and the long walkway mentioned above.