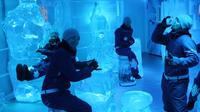 26 €
IceBar Melbourne Admission
Hang out with the 'cool' crowd at Ice Bar Melbourne, where you can experience sub-zero temperatures while sipping a cocktail at a bar made entirely from 30 tons of ice. It's a winter wonderland of ice sculptures and music. One drink is included with your admission, and cold-weather outerwear is provided to keep you warm.
As you enter Ice Bar Melbourne, located in the trendy suburb of Fitzroy, you'll be provided with gloves, boots, and a cape, included with your admission so you can stand the freezing temperatures of the fan-forced blizzard at the coolest bar—literally—in the city.

Enjoy one included Arctic-themed cocktail (or mocktail if you're underage) as you soak up the wintry surroundings of the bar, lounge area, and sculptures all carved out of ice. More drinks can be purchased at your own expense. You are welcome to go at any time during opening hours.