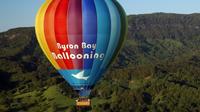 251 €
L'activité n'est pas disponible, essayez une autre recherche !
Hot Air Balloon Flight over Byron Bay
Enjoy a spectacular hot air ballooning flight over Byron Bay and see the sunrise over Australia's most easterly point. During the one-hour balloon flight take in the magnificent views of the coast and beaches, this is one of the best ways to see some of Australia's most spectacular scenery that surrounds Byron Bay. After landing, enjoy breakfast with a glass of sparkling wine to celebrate your flight.
On this one-hour hot air ballooning flight you'll float over Byron Bay's hinterland and take in the magnificent views of the coast and beaches.

There are around 20 different launch sites within a 50 kilometer radius of Byron Bay. The site will be chosen by your pilot to ensure the best possible flight for the prevailing wind direction. As the sun's first rays lighten the skies, the balloon swells, slowly taking its form. Silently, you feel weightless as you float off into the drifting wind.

Byron Bay and the endless blue ocean are to the east, and the spectacular Mount Warning massive caldera dominating the horizon to the north.

After landing in a farmer's field, relax and enjoy the early morning atmosphere over a sparkling wine breakfast.