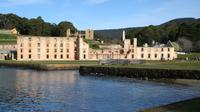 101 €
Hobart Shore Excursion: Port Arthur Shuttle
This product is only available to Cruise Ship passengers, or to others on days when Cruise Ships are in Hobart Port. Travel from Hobart to Port Arthur on this small bus or mini-bus shuttle, as you step back in time, discovering Tasmania's convict history. Spend approximately 4-hours exploring Port Arthur Historic site, including a guided tour and a tour of the bay on a catamaran. There may be opportunities (Cruise Ship departure times and weather permitting) to experience a short scenic helicopter flight over Port Arthur Penitentiary and surrounding countryside, or a visit to the nearby Unzoo (Tasmanian Devil Park), at own expense. This can be discussed with your driver, on that day.
When your cruise ship docks in Hobart, meet your guide at the port where you will depart for your day trip taking a leisurely drive south along the Tasman Peninsula to Port Arthur, enjoying the spectacular scenery and learning about Tasmania's historical past and the horrific fires of January 2012, along the way.

At the Port Arthur Historic Site you will experience a fascinating, 40 minute guided walking tour—a great introduction to Port Arthur, its people and its past. The tour is led by an experienced tour guide and provides an introduction to the most significant parts of Port Arthur, giving you a great foundation to continue exploring at your leisure.

Your admission fee includes a fully narrated 25 minute harbor cruise on board the MV Marana. The MV Marana will take you past the Dockyard, the Isle of the Dead Cemetery and the Point Puer Boys' Prison. The on-board guide will provide commentary, introducing you to the maritime history of Port Arthur. You can also enjoy a warm drink, a bite to eat or even a local wine or beer, on board, as you take in the view.

Golf buggies are available for anyone not too steady on their feet. Refreshments are available in the restaurant situated at the main entrance (at own expense).

The shuttle bus will depart Port Arthur in time to return to the Cruise Ship, prior to departure time.