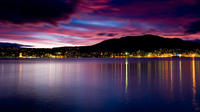 101 €
Hobart and Surrounds Photography Workshop
On this personalized photography workshop in Hobart you will discover some hidden photographic gems in the foothills of Mt Wellington, and then shoot a magnificent sunset from the Eastern Shore, as the city skyline sparkles into life under the imposing backdrop of Mt Wellington. Designed for beginner to intermediate photographers, a digital SLR and tripod is essential (tripod can be supplied), as the workshop will bring out the best of you and your camera. We will discuss tips and techniques to improve your image taking while in the field in some truly beautiful locations. This is a self drive workshop. Start time is approx 3 hours prior to sunset. Exact time and place will be confirmed on booking.
This personalized photography workshop covers two of the most exciting aspects of landscape photography - waterfalls and a sunset.

Meet mid afternoon near the Cascade Brewery in South Hobart, and travel from there to a lovely waterfall surrounded by green ferns in the foothills of Mt Wellington. Your guide will discuss how to capture the silky smooth flow of water as well as various other topics such as composition - what makes a photograph appealing to viewers; exposure settings including the role of ISO and what filters to use.

After you finish in the forest travel back through central Hobart and across the Derwent River to a lovely sunset spot. As you wait for the golden light of sunset you will explore the rocky foreshore, again discussing ideas for composition and how to set exposure for the high contrast challenge of sunset photography.

As the dusk falls, the city lights of Hobart will twinkle into life beneath the imposing silhouette of Mt Wellington.

The session will finish right on dark. Sunset of course varies through the year, so exact times and meeting places will be confirmed upon booking.

The session will run for approx 3~3.5 hours.