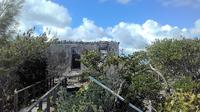 85 €
Historical Sightseeing Tour of Exuma
Discover the "Loyalist Years" of Exuma on this historical sightseeing tour with complimentary hotel transport. Tour starts along the waterfront off Steventon Exuma ending in Williams Town. While sightseeing along The Queen's Highway, your local tour guide will offer informative historical content to the reverent, areas and settlement throughout Exuma. This 4-hour tour is the most complete tour off it's kind. One off the highlights is a trip to Stocking Island, were you can feed the stingrays while enjoying a bowl of conch salad from the famous Chat 'N' Chill. Lunch and drinks will be available for purchase. This tour is a must for first time guests to Exuma!

After pickup from your hotel, the tour will start with a scenic ride to Steventon Exuma, one off the most historical sites in Exuma. The site was the home off Pompay, a slave who led a rebellion to protest the removal off the slaves from parts off Exuma and shipped off to another island. Next you will visit the site of the first packing house of Exuma in the settlement of Mt Thompson, where you would learn what types off crops were harvested and how they would be shipped to markets abroad.

Next you will visit the settlements of Hermitage and Moss Town. Exuma's only High School is located in Moss Town, with an award-winning Primary School. A private tour can be added to explore the old village off Jericho with it's cave systems and under ground spring. This is also the best place to go to enjoy a great day of bone-fishing. While in Hermitage you can visit the Three Hermitage Tombs of loyalists dating back to the early 1800's. Before heading into George Town, there will be a stop to the Wenshua Art Gallery, here you can find great works of art and crafts done by local Exuma residents. While in George Town you are encouraged to shop for unique souvenirs and straw work from the gift shops and straw market.

Next, you will take part in a walking tour throughout the town taking in the sites of the Peace and Plenty Hotel, St Andrews Church, as well as a tour around the world famous National Family Island Regatta site with Stocking Island just minuets across the Elizabeth Harbor. The highlight of the tour will be a visit to Stocking Island. Take a short ferry rider to the island where you can feed stingrays or lounge at the famous Chat 'N' Chill. The tour will conclude with a stop in Williams Town, were the remains off the Hermitage Plantation and rows off slave huts exist today. After the tour you will be taken back to your hotel.