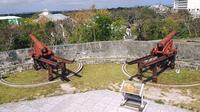 17 €
L'activité n'est pas disponible, essayez une autre recherche !
Historic Fort Tour in Nassau
You will discover new information about this historic fort during this tour, which provides not only quantity, but quality. You'll be gifted with a souvenir, bottled water, free map, brochure and itinerary of your tour. So step back in time and understand what it was like back in the day. Feel the cannons and look over the harbor at the sea, there just might be a boat coming in to attack. This tour is between 60-90 minutes long.
Step back in time and enjoy the wonderful history of this beautiful historic fort and have the time of your life. You will meet at the designated meeting spot with your guide and other guests. You'll be gifted with your free souvenir, bottled water, tour itinerary, brochure and map. You'll be given a rundown of the tour and all you should expect. Then, the walk will begin and tour of the fort will begin! You'll get a complete guided tour of the ins and outs of the fort. You'll be allowed to take photos and touch and feel the real cannons and limestone structures. Explore what used to be a defense mechanism for the island of Nassau. The fort was protection for the island from being attacked. Come see what is left of it and be truly amazed at what you discover.