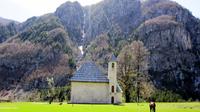 820 €
Hiking in Theth
Thethi valley's where fantastic landscapes are beyond imagination. Called by foreign tourists "Europe's last paradise".
The village is located in the north of the Valley of Shal, between the Alps with a rare beauty. Natural resources of the area are linked together with cultural and historical heritage of local residents, thus forming, the most important bases for tourism development.
Consisting in pursuing paths which reach the mountain peaks, hiking is an activity practiced in the Albanian Alps and high mountains. 
We are always accommodated in hotels or guesthouses during this activity where breakfast and dinner are served, meanwhile lunch is taken away, certainly something practical.
Not included:
Transport from the Airport to Shkoder & from Shkoder to Airport.
Coffee breaks & alcoholic drinks.
Day 1 - The guides will be waiting you in Shkodra city, the most important city in North Albania. After a short introduction with all the group, you will discuss for all the itinerary details.
In Shkodra to be visit: the Cathedral of Shkodra, the mosque, called New Mosque, Ebu Bekr, the "Pedonale" boulevard, one of the most famous boulevards of the city.
Day 2- Shkoder – Thethi Valley
We will pass through the valley of Boga and we will start hiking from the Sheep path 1670 m to 1822 m altitude, and then to go down to Thethi valley 900 m altitude. Accomodation in guesthouse in Theth.
Distance: 10 km. Duration: 5 hours. Difficulty level: T3.
Day 3 - Thethi Valley, Old Mill, Thethi Church, which is also one of the symbols of this village, Lock-in Tower & Waterfall of Grunas.
Lock-in Tower is typical of this area. A fort built on the foot of the village and used by the whole village. A fortress built at the end of the village and used by the whole village. It was home to those families who were forced to close because of blood feuds there (all men over age 14). Today the tower is the most visited and is located in an area with great tourist value.
Starting from Okol 900 m to 730 m altitude. The highest point that we will hike this day is 1000 m. Distance: 13 km, round trip. Duration: 6 hours. Difficulty level: T1+.
Day 4 - Hiking Peja Pass.
Starting early in the morning from Thethi 900 m to Peja Pass 1900 m altitude. This is one of the most beautiful trails in the Albanian Alps. Fantastic landscapes will appear along this itinerary and at top of the pass will be shown in front of us the view of Thethi valley.
Accomodation in Theth, in guesthouse, where we will enjoy local traditional food.
Distance: 11 km, round trip. Duration: 7 - 8 hours. Difficulty level: T2+.
Day 5 - Visit, Blue Eye.
Blue Eye is one of the rare beauties of Albania nature. We will start hiking from Okol 900 m to go down to 500 m and then to the Blue Eye 630 m altitude. Afternoon we will come back to the guest house at 900 m altitude. Along the itinerary, we will pass throught Grunas Canyon, one of the pearls of Albanian canyons.
Distance: 24 km, round trip. Duration: 8 - 9 hours. Difficulty level: T3
Day 6 - Valbona Pass.
It will start from Thethi about 900 m to Valbona Pass 1812 m altitude, and at this point will have a wonderful view of both valleys, Valbona & Thethi valley.
Distance: 14 km, round trip. Duration: 6-7 hours hours. Difficulty level: T3.
Day 7 -Departure from Thethi Valley to Shkoder.
After reaching Shkoder our service finish here otherwise is our pleasure to help you for further support.