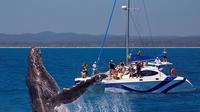 101 €
L'activité n'est pas disponible, essayez une autre recherche !
Hervey Bay Whale Watching Cruise by Catamaran
This seasonal whale watching tour takes you aboard a 24-passenger sailing catamaran from Hervey Bay to Platypus Bay at Frasier Island. An immersive platform lets you observe a humpback whale underwater while you listen to sound waves by hydrophone. Morning and afternoon tea are served along with a buffet lunch and beverage during the full-day tour.
After hotel pickup in the morning, board the Blue Dolphin, a 38-foot (11.6-meter) eco-friendly catamaran departing Great Sandy Straits Marina at Hervey Bay. This modern and luxurious sailing vessel is well-appointed with plenty of shaded seating areas and wide, flat decks — perfectly suited for up to 24 passengers. 

This long-running and award-winning whale watching tour heads out to Platypus Bay, situated on the western side of Fraser Island. Marine life abounds in the region, from the little-known Australian humpback dolphins to the well-known humpback whales that visit during the winter months.

Throughout the day you will be offered the opportunity to see the whales up close, including from an immersive platform. An informative talk is given by your skipper, who shares more than 30 years of experience working with marine mammals. Your guide's knowledge of the animals and the marine environment ensures a unique experience. Reference material is also available along with a hydrophone on board to hear the migratory mammals underwater. 

You're served a buffet lunch plus morning and afternoon tea including an antipasto platter and baked goods. Alcoholic drinks are available to purchase on board and you can share your photos via free Wi-Fi. 

After spending several hours in the company of whales, you will head back to the marina at Hervey Bay, with hotel drop-off in the afternoon.