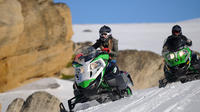 86 €
L'activité n'est pas disponible, essayez une autre recherche !
Half-Day Snowmobiling at El Calafate Mountain Park
Enjoy 4.5-hours of morning or afternoon snowmobiling at El Calafate Mountain Park. You will enjoy this activity at a great snow park, using the circuits for snowmobiles at the park and enjoying a thrilling ride. Your tour includes a professional guide and snack.
Your half-day adventure begins as you meet your guide and group at a central meeting point in El Calafate. From there, you will be transferred to the chairlift base.

Once at the base, you will ride the lift which takes approximately 14 minutes to reach the top. Once there, all passengers will receive the necessary equipment (helmet) from the staff and a briefing and the amazing ride on a snowmobile starts. You will ride through the circuits at the park and be amazed at the views and scenery, including Mount Huyliche's valleys. This tour will allow you to enjoy one of the best remote and extreme landscapes in Patagonia.

At the end of the ride, you will visit the "Huyliche" Coffeehouse at the park to enjoy a delicious muffin or brownie, accompanied by a hot beverage. Afterward, you will be transferred back to the original departure point in El Calafate.