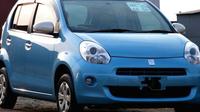 95 €
L'activité n'est pas disponible, essayez une autre recherche !
Half-Day or Full-Day Compact Car Rental in Nassau
Enjoy the flexibility of designing your own sightseeing itinerary in Nassau by renting a private vehicle for a 4-, 8-, or 24-hour period. See what you want when you want—from historical landmarks to beaches—as you drive a compact car that can accommodate up to five people. Hotel pickup and drop-off for transportation to the rental location is included for a hassle-free experience.
Sometimes the best way to see a city is on your own, and renting a private car is the ideal way to enjoy a flexible, independent sightseeing experience.

In the comfort of a clean, compact vehicle, you can visit Nassau sights like the Queen's Staircase, the Water Tower, Arawak Cay, Fort Charlotte, the Caves, Old Fort Bay, and more. Cover as much ground as you want, and capture a real feel for life in the Bahamas. Your rental package includes hotel pickup for transport to and from the rental location.

When booking, select from three options: the half-day rental with four hours of use, the full-day rental with eight hours of daytime use, or the 24-hour rental. The available compact car models include the Honda Fit, Mazda Demio, Mazda Verisa, Toyota Passo, Toyota Ractis, and Nissan March.