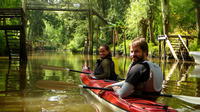 46 €
L'activité n'est pas disponible, essayez une autre recherche !
Half-Day Kayak Trip on the Parana River Delta
Escape Buenos Aires hustle and bustle by joining our half day guided kayak tour in the green Paraná river delta. After a brief instruction on kayaking technique and safety, we´ll set out to paddle on streams and rivers of the area. You will be able to see some of the picturesque delta houses built on stilts, aquatic birds, local vessels and many other people enjoying water sports and sharing the river with us. A brief trip kayaking the delta is a trip to the unique natural and cultural heritage of the Paraná -the 3rd longest river in America- and it´s continually growing sedimentary delta! And you´ll learn about it while toning up and acquiring new paddling skills or improving your existent ones. As we go back, a delicious snack will be waiting for us to enjoy the last little bit of trip before going back to the city.
The meeting point for a half day tours is Tigre's train station at 2pm, from where we get by foot to the boat pick up point, which is within walking distance. Then there is a very short motorboat trip to our island base, 5mins from Tigre. The main advantage being that we launch from a calm stream. In our base you have changing rooms available, and at the end of the trip you are welcome to take a shower and get in your warm clean clothes for the return trip. Following, we'll go through kayaking basic techniques and safety and we'll set out to paddle! In a half day trip (2pm to 6pm) we'll kayak along streams and rivers for an hour and a half in total, without stopping on shore. As we paddle back, we´ll serve you an afternoon snack on the deck overlooking the stream to enjoy the last little bit of trip, before we go back to the city.