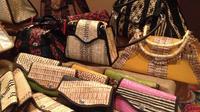 26 €
L'activité n'est pas disponible, essayez une autre recherche !
Guided Shopping Tour of Nassau
With this guided walking tour you'll hit all the hot local stores in Nassau and be introduced to the latest trends and let's not forget we'll also check out the fashionable souvenir spots. This small group shopping tour is 90 minutes of pure delight, as your friendly guide will help you shop 'til you drop. This tour includes a free Bahamian souvenir, map/itinerary and a cold bottle of water. This tour is for visitors not wanting to shop alone and those who are interested in the best the Bahamas has to offer, especially bargains!
Meet your guide at the British Colonial Hilton, there are three departure times to choose from — 10am, 12pm or 2pm. Walk over to the first stop is the legendary Straw Market. This market is famous for straw art and many other native souvenirs. Plus, this is where you can bargain your way into a good buy. Next, hit a few small souvenir stores and make your way over to the luxurious John Bull, which sells makeup, electronics, jewelry and designer bags. After, visit the T-shirt jungle and a few other souvenir stores. We'll also check out several jewelry stores, including the famous Colombian Emeralds. Next up are a few of the most luxurious stores in Nassau, selling designer handbags, shoes and sunglasses. In 1.5 hours, the tour stops at about 10 different Bahamian shops. The tour requires light walking.