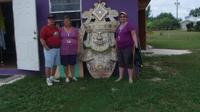 27 €
Grum Ma's Cultural Center Admission and Tour
Grum Ma's Cultural Center provides a great place to learn about Bahamian culture. As soon as you enter Grum Ma's Cultural Center your Bahamian experience begins as you are introduced to aspects of Bahamian culture through photos, books, paintings, craft and Junkanoo costumes. As you explore our Bahamian culture you will also learn about our history. You will also be able to taste traditional Bush (herbal) tea!
Grum Mas' House Cultural Center is a cottage style building that has on display artifacts that represent Bahamian cultural and history located in the settlement of Hunter's, Grand Bahama. The tour of the Grum Ma's House Cultural Center takes place in its cozy rooms.
There is a walk around exhibit that takes you through the history and culture of the Bahamas. Here you will learn about the origins of the Bahamas from the first inhabitants, the Arawaks, Lucayans and Tainos who were originally from South America to modern day. 
This is followed by a seated experience so that you can enjoy traditional Bush Tea (local herbal tea) while you learn more about Bahamian culture including celebrations like Junkanoo, different musical genres, folklore and other related information. 
Come to Grum Ma's Cultural Center for a more authentic Bahamian cultural experience!