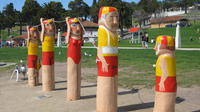 390 €
Geelong and Queenscliff Trike Tour for Two from Melbourne
Take a private sightseeing trike tour through Melbourne's closest regional city, Geelong, with its magnificent waterfront precinct then skirt Corio Bay through to historic Queenscliff by trike for two people.
This sightseeing tour takes you to the magnificent waterfront precinct of Geelong, then skirts part of Corio Bay from Portarlington to St Leonards before reaching historic Queenscliff.

Experience the rush of Geelong's magnificent waterfront precinct where we stop for morning tea. Take some time to explore artwork from artist Jan Mitchell - who has created many characters that have shaped Geelong's history - on the Baywalk Bollard Trail. Take in Cunningham Pier, the Carousel and Eastern Beach before we head off again to Geelong's Botanic Gardens on the way to Portarlington.

The wonderful seaside village of Portarlington is famous for its Australian Blue Mussels, celebrated by the Portarlington Mussel Festival on the second Saturday in January. We pass through this village so we can skirt Corio Bay from Portarlington to St Leonards before reaching historic Queenscliff. This route gives you panoramic views across Corio Bay and on a clear day Melbourne's skyline is visible. We follow this esplanade through Indented Heads to St Leonards before heading inland slightly and on to historic Queenscliff - a holiday destination since the 19th century and with significant maritime and military history.

The picturesque Queenscliff Harbour is our destination and lunch stop. Surrounded by the Port Phillip Heads Marine National Park you can explore the views across Port Phillip Bay to Point Nepean, over Queenscliff Pier to the Rip - our notorious entrance to Port Phillip Bay - or to other parts of the Bay from atop the 360 degree tower. Watch the Queenscliff - Sorrento ferry arrive or depart or explore the boutique shops at the harbour. Some great shops are also in the town's shopping precinct or take in a walk around Fort Queenscliff.