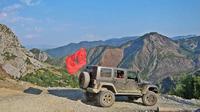 65 €
L'activité n'est pas disponible, essayez une autre recherche !
Full-Day Jeep Safari in Kruje
Full-day Jeep safari in Kruja, the oldest town of Abania. The tour starts off-road through the National park of Qafe Shtama. Visit the old bazaar and the castle of Kruja.
The tour start at in the morning in the Center of Tirana or we can pick you up at the Hotel, we will drive soft off-road in the national park of Qafe Shtama. The park is approximately 1,100 meters above sea level, a picturesque fountain, with pure, cold and curative water. After a short break in the park and our tour continue driving to Kruja city. A visit at the one of the oldest bazaar will not be missed on this tour. After the bazaar we will have the lunch break.

After lunch, we will visit the castle and the museum of Kruja fortes built during the 5th and 6th century. The name of Kruja derives from the Albanian word krua, meaning 'water spring'. The citadel has become the main Illyrian fortress in the area in the 4th century AD. In the year 879, Kruja was mentioned for the first time as a Christian religious center. After the visit at the castle, jeeps will wait for you to leave Kruja and to bring you to Tirana via asphalt road.