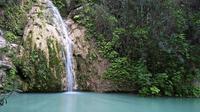 80 €
Full-Day Baths of Aphrodite Tour from Paphos
Explore Cyprus' rich history and sample some of Greece's traditional produce on this full-day Baths of Aphrodite tour from Paphos. Taste locally made specialities such as 'halloumi', 'loukoumia' and Greek wines. Take a relaxing glass-bottom boat cruise from Latchi Marina to the Blue Lagoon with a guide. Follow in the footsteps of Aphrodite — the goddess of love and beauty, and protector of Cyprus — to the Baths of Aphrodite. Swim in the warm waters, soak up the sunshine and enjoy free time to relax at your leisure before returning to Paphos.
Meet your guide during a morning pickup at your Paphos hotel, then travel to a restored traditional village house in the town of Letymbou. During your visit, sample a variety of Greek breads and cheeses such as halloumi, and gain insight into the flavors the locals love.

Next, visit a local sweet-making factory and taste sugary treats such as loukoumia — or Turkish delight. Then, head onward to the north coast of Paphos for a glass-bottom boat cruise from Latchi Marina to the Blue Lagoon.

Afterward, visit the Baths of Aphrodite — a natural pool surrounded by greenery which lies at the end of a small nature trail. As its name suggests, the grotto is where the Goddess of Love is reputed to have bathed. Enjoy the sun, turquoise sea and scenery accompanied by a selection of seasonal fruit and drink, included in the price.

Enjoy free time to swim and sunbathe at your leisure, then visit a local winery on route back to your hotel in Paphos.