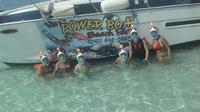 63 €
Freeport Snorkeling and Sightseeing Tour
Enjoy wonderful snorkeling at Rainbow Reef or Treasure Reef then relax your mind with a 45-minutes sightseeing tour through the canals of Freeport.
After pickup from the Port Lucaya Marina you will be taken away to enjoy 1 hour and 15 minutes of snorkeling at one of the famous reefs in Freeport.


At wither Rainbow Reef or Treasure Reed there will be plenty of different species of fish and beautiful coral. Discover the underwater world of the Bahamas! On completion of snorkeling portion of the tour you will then take a relaxing tour through the canals while listening to some Bahamian music and sipping on complimentary Bahama Mamas.
The canals which were man-made in the 50s and early 60's now boast a variety of million dollar mansions. This tour also stops briefly at the Dolphin Sanctuary which is own by a private company . There you may be encouraged to book a dolphin encounter tour. After the Dolphin Sanctuary then return back to the Port Lucaya Marina.