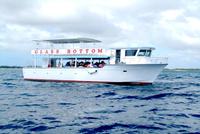 32 €
Freeport Glass-Bottom Boat Cruise
Discover the Bahamas' beautiful scenery and underwater marvels on a 1.5-hour glass-bottom boat cruise from Freeport. Glide along the southern Freeport coastline past Cooper's Castle, and gaze down through your boat's glass bottom to the watery depths below to marvel at shipwrecks, colorful fish, coral reefs and sharks. Enjoy onboard commentary from your guide about the fascinating marine life you see from the comfort of your double-decker boat.
Head to the Port Lucaya marina to board your boat and begin your 1.5-hour cruise along Freeport's coastline and onto the crystal-clear Caribbean waters beyond. Your vessel — a 60-foot (18-meter) double-decker, glass-bottom boat — features an upper sundeck and shaded area below, so you can choose where you prefer to soak up the scenery.
Watch the coastal panorama drift slowly by, keeping an eye out for Cooper's Castle, an ancient fortress sitting high on a hill over Freeport. The highlight of your cruise, though, is gazing through the boat's glass bottom to marvel at the colorful marine life swimming below your feet.
Look below to see Theo's Wreck, an impressive 233-foot (71-meter) shipwreck resting on the ocean floor. Once a cargo ship, Theo's Wreck is now covered in vegetation and home to a myriad of fish species. Continue to Brit's Wreck, near Treasure Reef. Keep your camera handy, as this is a hotspot for sharks!
Listen to your guide's commentary to learn about the marine life you see; the warm, tropical waters of the Bahamas are home to beautiful coral reefs and a fascinating array of fish including blue tang, surgeonfish and queen angelfish.
Conclude your 1.5-hour glass-bottom boat tour back at the Port Lucaya marina.