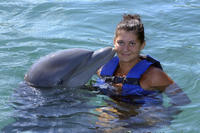 87 €
L'activité n'est pas disponible, essayez une autre recherche !
Freeport Dolphin Encounter
Kiss a dolphin as you stand on a 3-foot deep submerged platform. Educational and interactive program for all ages ! Trainers will show you how intelligent and fun these amazing creatures are and share the importance of conservation of our oceans for future generations. Your tour begins with a 20 minute boat ride to Sanctuary Bay, a 9 acre lagoon which is home to 12 Atlantic Bottlenosed Dolphins. After a short briefing, you will have the opportunity to touch the dolphins and perhaps even get splashed by them as they swim around your program area. Guests also step down on to a 3-foot deep submerged platform where they will have the opportunity to rub the dolphins and receive a kiss. Professional photo staff are on hand to capture the moment and photos are available for purchase after the program.
Guests will board one of our dolphin ferry boats for the short 20 minute boat ride arriving at our natural 9 acre lagoon, "Sanctuary Bay", home to twelve Atlantic Bottle Nose Dolphins.

Sit with your feet in the water to have an educational experience about these dolphins while they splash and jump around you.
Step onto a 3-feet submerged platform where you can pet and kiss a dolphin.

Photographers will take a photo of you while interacting with the dolphins, available for purchase after the program. After the program spend time enjoying the scenic view and look at several Macaws and Cockatoos.

After the program enjoy lunch or a snack at the Dive In Marina Bar & Restaurant, take a dip in the 17-foot deep pool or shop in the 4000 square foot store.

Note: All ages are welcome. A parent or guardian must participate in the program with children under the age of 16. Guests are not permitted to wear tanning oils or excessive amounts of sunscreen. Jewelry should be removed for the safety of the dolphins. Photos are available for purchase after your program.