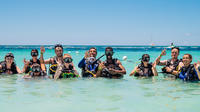 102 €
Freeport Discover Scuba Diving Experience
Learn from the experts! Begin your scuba diving experience in the clear warm waters of the Caribbean Ocean and discover a whole new hidden underwater world. Complete your day with delicious food and beverages in the all-inclusive Bahamian Beach Club
This is the ideal way to begin your underworld exploration. Hosted by a professional dive team, this program allows you learn about and explore the world of diving.

Begin with a practical presentation, where you will be shown how diving equipment works and the basics on dive safety. Once confident with the equipment, swim into the shallow, warm waters and experience your first underwater exploration. Search for brightly colored corals and tropical sea life while under the supervision of your dive guide. This is the perfect way to discover scuba diving!

Complete your day at the all-inclusive Bahamian Beach Club where you can enjoy a full local buffet and national open bar along with the facilities and activities.