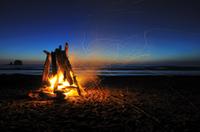 46 €
Freeport Bonfire on the Beach Bahamas Style
Party on the beach Bahamas style with fire dancing, limbo contests and an entertaining DJ! You'll feast on an all-you-can-eat Bahamian-style buffet and drink as many Bahama Mama cocktails as you please while enjoy the bonfire on Taino Beach!

The evening's party begins on beautiful Taino Beach where your buffet dinner is served. The buffet includes chicken, ribs, peas 'n' rice, corn on the cob and coleslaw. And to accompany the feast you can order as many Bahama Mama cocktails as you like at the all-you-can-drink beach bar.

After dinner, take part in fun beach activities like Limbo Dollar Wine and Swing Engine. Sing the night away to the lilting sound of the rolling waves. Enjoy the fire dancer as she dances her way around the crowd before you dance to the DJ's music under the stars.