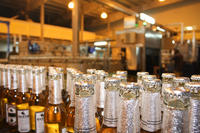 36 €
Freeport Bazaar and Brewery Tour
Shop, sniff and sip your way through Freeport on this 3-hour city tour that takes in outdoor marketplaces, a perfumery and an island brewery. With a local guide, look for straw bags, batik fabrics and other souvenirs of your Grand Bahama vacation at Port Lucaya Marketplace and the International Bazaar; blend your own Bahamian fragrance at the Perfume Factory; and enjoy a behind-the-scenes tour and beer tasting at Bahamian Brewery.
Meet your tour guide at the Freeport cruise ship pier to begin your 3-hour tour of the city, starting at Port Lucaya Marketplace, a pastel-colored outdoor shopping and dining area.

This bustling marketplace is great for picking up some Grand Bahama souvenirs, particularly from the straw craftsmen. Bargain for tote bags or maybe a straw hat to take home for yourself or friends, and browse the jewelry stores and other shops.

Then head to the Perfume Factory, founded in the 1960s by clothing businessman Albert Whisnant. The New Yorker had a nose for quality scents, a talent honed by a lifelong hobby of collecting perfumes. During a vacation, he realized that Grand Bahama didn't manufacture its own perfume, so he started his own factory. Housed in a pink and white mansion, the factory features an area where you can even create and name your own fragrance blend (who says only pop stars get their own perfumes?).

The Perfume Factory is located at the International Bazaar, a quirky outdoor shopping center that features European and Asian styles of architecture. Check out a few of the interesting shops at the bazaar before continuing with your guide to Bahamian Brewery, where you'll start your visit with a tour of the beer-making facilities. Learn about the brewery's different types of beer, including Sands 'Truly Bahamian' beer, High Rock lager and Strong Back stout, and then follow your guide to the private bar for a beer tasting. Decide which one is your favorite, and have another glass or two on the house.

Take a pass through the brewery's gift shop to purchase souvenirs or beer to take with you, if you wish, before returning to the cruise ship pier, where your tour of Freeport ends.

Please note: Although this tour begins and ends at the cruise ship pier, it is not a shore excursion and is not exclusively for cruise passengers — anyone is welcome. However, if you are a cruise ship passenger and want to take this tour, be advised that you are responsible for getting yourself back to your ship on time.
Special Offer - Book with us and save 12% compared to another travel site! - Book Now!