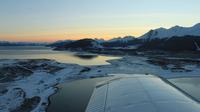 556 €
L'activité n'est pas disponible, essayez une autre recherche !
Flight over Isla de los Estados
Jules Verne´s imagination gave birth to the mythical atmosphere that surrounds the Isla de los Estados and its lighthouse, tourists can now visit this remote corner of the Atlantic sea from the air for the first time.Come enjoy an epic fly over one of themost remote places on Earth.
Tourists should meet the pilot at Ushuaia´s local airport (transfer not included). As we take off, we will fly over Ushuaia bay and enter the Valley of Olivia River, enjoying the majestic Mount Olivia and Cinco Hermanos. Immediately after, we can sightsee the Carbajal Valley from where we can access a second mountain range that harbors Laguna Esmeralda. Once in the inland of Tierra del Fuego, you will be able to see Lake Escondido and Lake Fagnano, among the five largest lakes in Southamerica. We will also fly over lagoons Santa Laura, San Ricardo and Margarita and the little village of Tolhuin. 
We will border Mount Cornú, the highest peak in the area, and follow eastward to the Atlantic ocean. We fly over the remote Mitre Peninsula and cross Le Maire strait. There where the two oceans meet, the Isla de los Estados emerges with its emblematic End of the World Lighthouse, mentioned in Jules Verne´s novel from 1901. After sightseeing the mythical island, we fly over fjords and canyons, as well as Chilean islands Lennox, Nueva and Picton. Upon returning back to Ushuaia, we sightsee Estancias Moat, Harberton and Remolino, and the great island of Navarino, in Chile. We can also appreciate Estancia Túnel, that used to be a timber mill, and lighthouse Les Eclaireurs, located in the middle of the Channel.