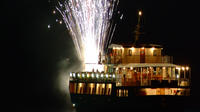 65 €
L'activité n'est pas disponible, essayez une autre recherche !
Fireworks Night Cruise from Paphos
Enjoy the best show in Paphos town aboard the most unique and comfortable yacht deck in Cyprus! This event is for sure a memorable one for spectators of all ages!
The Highlight of this summer!!! Enjoy the best show in town several nights per week aboard the most spacious yacht deck in Cyprus! After pick up from your centrally located hotel in Pafos, you are transferred to the port of Pafos to board the spacious yacht for a fun and casual fireworks dinner cruise along Pafos coastline. Once on board you will be welcomed by the crew. Waiters will escort you to your table. Relax or sip a drink (optional), as your expert captain sets sail on the sparkling waters of the Mediterranean Sea. Take in spectacular views of the Mediterranean Sea and Pafos coastline. The first rate house band will soon start performing while you relax on deck. The captain then drops anchor in Atlantida Bay to enjoy a freshly prepared full course buffet dinner. Waiters will also offer a glass of wine during dinner, followed by delicious seasonal fruits and desserts. The evening continues with an exclusive musical dancing show and aerial show followed by a spectacular fireworks display illuminating Pafos night sky in the most beautiful and different colours!! Join us for an exceptional evening on board! This Pafos dinner cruise is always sold out. Early reservations are advised. Pafos Fireworks Night Cruise ends with your drop off at your centrally located hotel.