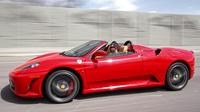 100 €
Ferrari Sports Car Passenger Experience from Archerfield
Enjoy the thrill of riding in a Ferrari during a 30-minute entry-level experience where you are the passenger in the sports car. With a driver at the wheel, all you have to worry about is feeling the power of the exotic vehicle as it whisks you around the outskirts of Brisbane. Compared to the self-drive tour, this passenger option is designed for those with a limited budget or those under 30 years of age.
Arrive at Archerfield Airport, about 20 minutes from downtown Brisbane, to begin your Ferrari experience.

Slide into the passenger seat of a 500-horsepower V8 Ferrari F430 F1 spider, and take off with your driver for 30 minutes of travel around the area. The car is perfectly presented and features all available carbon fiber upgrades, which your driver tells you about and guides you through the Ferrari's features and functions as you explore nearly 20 miles (30 km) of varying public roads. Soak up the power and sound of the super car, and enjoy a photo op after your ride (available for download afterward).

Friends and family are welcome to be spectators, but additional passengers are not permitted as there are only two seats in the vehicle. Children must be closely supervised at all times. A full high-definition video of your ride is also available for purchase on a memory card (own expense).