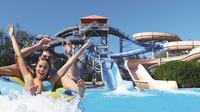 30 €
Fasouri Waterpark Admission Ticket
The Fasouri Watermania waterpark is the ideal place for families, friends and children to spend a one-day outing, away from work troubles and paper loads. You can purchase up to 10 tickets per booking. Hotel pickup and drop-off as well as food and drinks are not included.
Fasouri Watermania is presently over 100,000 sq.m – 25 acres and features a number of attractions and facilities (with 30 different slides for all ages, two restaurants and three snack bars).
At Fasouri Watermania waterpark you will enjoy being entertained in a safe, fun and relaxing environment. Get away from the hustle and bustle of the crowded city and join a unique thrilling experience.
The waterpark packs an impressive array of attractions, facilities and services. Dressed in a Polynesian theme, the waterpark gives a tropical feeling to your experience.
Do yourself a favor this summer: have some cool fun at the number one waterpark in Cyprus, Fasouri Watermania. Make it an experience to remember.