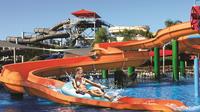 30 €
Fasouri Watermania Waterpark Admission Ticket
Fasouri Watermania is the biggest Waterpark in Cyprus both in size (105,000 square meters of gorgeous green parkland) and in number of attractions and facilities: 30 different slides for all ages, three restaurants, three snack bars and over 2000 sun beds. A staff of more than 100 people work continuously to provide the best service to visitors. Winner of Trip Advisor Award for the years 2012, 2013, 2014, 2015 & 2016! In 2015 Fasouri Watermania Waterpark was awarded 3rd best waterpark in Europe!
Ideal for an all day excursion. The Waterpark features over 30 breathtaking rides and attractions including waterslides, one of the largest wave-pools in Europe, lazy river, children's activity pool, the Kiddy bubble, the Black Hole slide, extreme Black Hole slide and the Kamikaze Slide. In 2016 we introduce children swimming lessons and life guard diplomas as extra activities.

Fasouri Waterpark offers a wide variety of delicious dishes from theme restaurants, refreshments from the Cocktail Bar, freshly made crepes and waffles from the Sweet Land Kiosk, large variety of Ice Cream flavours, delicious mini donuts from the Donuts Kiosk, the Cinnabon, Juice bar and last, but not least, hot and cold aromatic coffees by Costa Café.

Upgraded services and facilities. Guests may enjoy the day without worries. The souvenir shop is fully equipped with beachwear, bags, towels and lots more. For securing valuables there are available lockers located at the changing room area and smaller size lockers on the umbrellas next to the sun beds. Finally, through the cash card systems guests may credit a card with the amount of their choice without the need to carry their cash around the park. Also guests may capture their moments with our professional photographers, relax at the massage parlor or enjoy a combination of gentle exfoliation and foot massage at the Fish Spa. Additionally, a great selection of nonallergenic, ecological and temporary skin coloured tattoos are also available.