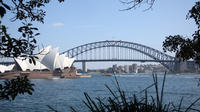 398 €
Excursion privée d'une demi-journée à Sydney, incluant l'Opéra de Sydney, le Harbour Bridge et Bondi Beach
Profitez de la meilleure visite de Sydney lors de cette excursion privée d'une demi-journée. Découvrez les vues dignes de cartes sur l'Opéra de Sydney et le Harbour Bridge depuis Mrs Macquarie's Chair. Apprenez-en plus sur la riche histoire et la culture de la ville grâce à votre guide expérimenté. Visitez la pointe du port de Sydney à The Gap, et trempez vos pieds dans l'océan à la célèbre plage de Bondi. Voyagez dans les banlieues huppées de Paddington et de Vaucluse et dans le célèbre quartier de Kings Cross.
Admirez la vue spectaculaire sur l'Opéra et le Harbour Bridge depuis Mrs. Macquarie's Chair avant de traverser Woolloomooloo et de monter jusqu'à Kings Cross, le quartier rouge de Sydney.

Traversez les élégantes banlieues est en bord de mer, Double Bay et Rose Bay. Découvrez la spectaculaire entrée dans le port de Sydney à The Gap (Watson's Bay).

Promenez-vous sur la célèbre Bondi Beach ; allez tremper vos pieds ou optez pour un café dans l'un des cafés qui bordent la promenade.

Traversez l'élégante Paddington et la Darlinghurst branchée, avant de retourner à votre hôtel. Vous pouvez également vous joindre à un déjeuner-croisière au départ de Circular Quay (à vos frais) ou visiter les marchés aux poissons de Sydney.