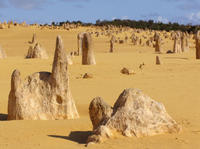 145 €
Excursion d'une journée dans le Pinnacles Desert, koalas et sandboard en 4x4 au départ de Perth
Optez pour une fabuleuse visite d'une journée complète en autocar jusqu'au fascinant Pinnacles Desert en Australie-Occidentale. Vous verrez des koalas et d'autres animaux aborigènes dans un parc animalier, vous pourrez profiter d'un déjeuner fish and chips dans la ville côtière de Cervantes, d'une balade guidée à travers le désert des Pinnacles et d'une excursion en 4x4 sur les vastes dunes de Lancelin.
Après le ramassage à 8:00 par votre chauffeur-guide à l'hôtel à Perth ou à un autre point de rendez-vous central, voyagez jusqu'au parc animalier de Caversham où vous pourrez voir des koalas, des wombats, et des kangourous. Avec un peu de chance, vous pourrez également apercevoir un kangourou albinos et un paon.

Continuez jusqu'à Cervantes, une ville spécialisée dans la pêche au homard et partez pour une visite autoguidée d'une usine de transformation de homards en activité. Regardez une présentation vidéo qui vous donnera un aperçu de l'industrie puis prenez la passerelle située en hauteur dans l'usine, où vous vous tiendrez juste au-dessus de 20 tonnes de homards vivants. Après l'excursion, profitez d'un déjeuner fish and chips au Lobster Shack ou optez pour un surclassement afin de déguster du homard en option si vous le souhaitez.

Ensuite, rendez-vous au parc national de Nambung. Avec une superficie de 17 491 hectares, le parc national de Nambung abrite le fameux Pinnacles Desert, le désert emblématique de l'Australie-Occidentale. Flânez dans ce désert surnaturel, parmi les blocs de rochers qui auraient été créés il y a des millions d'années lorsque les coquillages se désintégrèrent en sable avant d'être érodés par l'eau et le vent. Vous aurez également le temps de découvrir le Centre des visiteurs de Pinnacles Desert.

En repartant vers le sud pour retourner à Perth, vous ferez un arrêt dans la petite ville de Lancelin, où vous vivrez les frissons d'une aventure en 4x4 à travers d'immenses dunes de sable blanc, les plus grandes de l'Australie-Occidentale. Faites monter l'adrénaline pendant que vous glissez sur ces dunes qui recouvrent 2 kilomètres.

Détendez-vous pendant le voyage de retour vers la ville rapide et confortable en autocar, pour arriver au point de dépôt de votre choix à Perth vers 19:30.
Offre spéciale -

Réservez avant le 1er octobre 2017 pour un voyage avant le 31 décembre 2017 et économisez jusqu'à 15 % sur notre prix précédent !
Remarque : aucune réduction applicable sur l'option avec déjeuner en surclassement.

- Réserver maintenant!