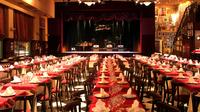 29 €
Esquina Homero Manzi Tango Show with Optional Dinner
The corner of San Juan and Boedo is a historical and traditional place in the city of Buenos Aires. It's a symbol of urban culture and that's where you'll find La Esquina Homero Manzi, a restaurant with a cuisine of international class. Come along for a night of traditional Argentine culture!
The bar built on that corner in 1917 became the symbol of the urban culture of the decade of the forties. At those tables many of the musicians were the ones who made tango the most representative artistic expression in the city. The charm and the cultural importance of the place, declared a historical building, attracts hundreds of people every day. Its reopening implies a re-modernization, with equipment that ensures comfort and features to meet the modern demands of the 21st century.

After hotel pickup, you'll head to the Boedo neighborhood where Esquina Homero Manzi is located. If you choose the dinner option, you'll start your evening with a delicious three course dinner featuring an international menu as well as more traditional dishes (see sample menu below).

The show begins at approximately 10pm and it will be a memorable experience. With more that 15 artists on stage, the tango show will include a live musical quintet (bandoneon, piano, violin, guitar and bass), two singers and four dance couples. After the show, you will be dropped off at your hotel.

Sample three course dinner menu (subject to change):

Reception
Small glass of sherry with small stuffed pastry.

Starters (choose one of the following):
Assorted cold curs with salad
Cake roll filled with ham and heart of palm
Empanada

Main Courses (choose one of the following):
Boneless steak with french fries or mixed salad
Chicken with almonds served with noissette potatoes
Vegetables or ricotta ravioli

Desserts:
Ice cream with kiwi and strawberry sauce

Drinks (choose one of the following):
Mineral water, or soft drinks or fruit juices or beer
Red or White wine (one bottle for every two people)
Special Offer - Book by June 15th, 2016 to travel before December 31, 2016, and save 10% off our previously offered price! - Book Now!