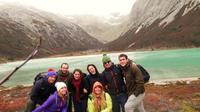 115 €
L'activité n'est pas disponible, essayez une autre recherche !
Emerald Lagoon Trekking Tour from Ushuaia
Amazing landscapes between valleys, woods, mountains and the cherry of the pie, Emerald Lagoon with distinguish green emerald color. We start walking in the afternoon to have the chance to watch the beavers in their daily evening routine and also this gives us the opportunity to have the lagoon for ourselves. A 4 hours trek totally enjoyable!
We begin our journey picking you up at your hotel and driving through National Route 3 heading north. Getting away from the Beagle Channel we will discover one the most important valleys in the island, where we will start a trekking over a peat area until we get to a lenga (beech tree) forest. Crossing beaver dams and following a stream which we will lead us to the Esmeralda lagoon, we will be able to have our snack surrounded by glaciers.

When we are coming back we share the landscape meanwhile we wait the beavers to appear, making their daily labor. After watching the forest engineers do their job, we start making our way back to the bus. Heading south we get back to the city.