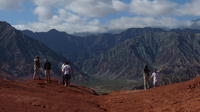 99 €
El Paso Hiking from Cafayate
With our tour, you will live an unique experience, as you get in direct contact with nature, to appreciate its geological formations of great beauty and millions of years of age.
Our walk El Paso Hiking from Cafayate, will take you through the scenic provincial route No. 68, to appreciate landmarks like La Punilla and Yesera Pass . We will finish on top of a huge mountain that serves as a natural viewpoint, to observe the variety of formations of incredible colours.
The tour starts with the passengers pick up from their hotels in the centre of Cafayate, to travel along the the Provincial Route no. 68, for about 23 Km. This tour will show you, in a vivid and unique experience, amazing geological formations from the region of Quebrada de las Conchas, a trustful witness of the evolution of our planet for the past millions of years.
We shall find our way through a winding road, guarded by naturally carved walls, to reach the top of a huge mountain of dark reddish color. This mountain serves as a natural viewpoint that allows us to admire to the 4 cardinal points to the endless formations of incredible colors.
A point of great interest to visit during our trekking is the Yesera, an area of great geological value, where evidence of fossil fishes can be found
It's a different tour, that invites you to an area of great natural beauty with very striking rock formations of reddish colors, and also, has an important paleontological site, belonging to the Cretaceous period.
The tour ends with the return of each passenger to their respective hotel