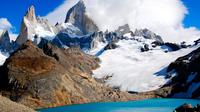 127 €
El Chalten Full-Day Trek from El Calafate
Visit El Chalten, famous for being the Trek National Capital with its various trails running through Los Glaciares National Park. Observe the important Mounts and Hills of the Andes Range and be amazed by the breathtaking views with its lakes formed by melting snow.
This Trek is ideal for those in El Calafate with its roundtrip transportation from El Calafate's hotels.
Explore the National Park for a full day with a professional Andinism Guide, including lunch. Choose the path you want to texplore, such as Laguna de los 3, Laguna Capri or Laguna Torre.
After being picked up at your hotel downtown El Calafate at 07:30 am, hop on a comfortable coach equipped with air conditioning and heating. Drive on the mythical Route 40, along the Argentino Lake, one of the most important reserves of fresh water in the world. Cross the Santa Cruz River and listen to your guide's story about Darwin's experiences with Fitz Roy while navigating this river.
Keep going towards the La Leona River. After 75 minutes, you'll arrive at the former Hotel Paso la Leona, where you can take a coffee with homemade cakes. Continue along Viedma Lake with the Andes Mountains Range in the background. Before reaching El Chalten, take a break at a viewpoint near the Viedma Glacier, with the Fitz Roy and Torre Hills looming in the distance.
After driving for 135 miles (220 kilometers) and 3 hours, you'll arrive at El Chalten, where the Rangers will welcome you. Continue to the start of the self-guided hiking trails running from El Chalten and leading to the most breathtaking viewpoints of Fitz Roy and Torre Hills. Your trekking guide will give advice about the different options based on your physical fitness and provide maps of the various trail options. For lunch, you will also be given a lunch box to enjoy during the hike.
If you do not want to hike by yourself, the guide will follow one of the trails and you can choose to accompany him. A meeting point will be defined and marked to meet at 06:00 pm at the end of your trek. Then enjoy your chosen hike and appreciate some of the most beautiful scenery in the world as you travel through this landscape of lakes and mountains. 

At 06:00 pm, meet back at the previously-defined meeting point and hop on the bus to start your trip back to El Calafate. Driving along the same route, arrive at your hotel downtown El Calafate at 10:00 pm.