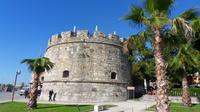 30 €
Durres - Sightseeing tour
Durres city lies on the Adriatic coast and is main commercial port of Albania. Durres, Albania's second largest city was known formerly as Durrahium and is one of the oldest towns in the country. Nowadays, after Albania's opening to democracy, it is becoming a major hub for tourism and trade in the Western Balkans. 
Legend says that it was founded by Epidamnos, the Illyrian King of the area, who called it by his own name and named the port area after his grandson, Dyrrah. It was for centuries the largest port on the Adriatic, it was the start of the ancient "Via Egnatia" the strategic road to connect Rome - Durres - Thessaloniki - Istanbul. And it was a vibrant city for millenniums, and was considered 'Adriatic tavern" until Ottoman invasion in 13th Century, where it will loose its glory. 

We visit the Roman times amphitheater and the Archaeological Museum, situated near the sea and rich in objects excavated in Durres. We also visit the Roman Baths behind the Aleksander Moisiu Theatre on the central square.