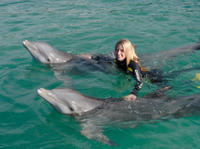 184 €
L'activité n'est pas disponible, essayez une autre recherche !
Dolphin Swim in Freeport
Swim with the dolphins at our 9 acre facility Sanctuary Bay. Experience their underwater world as you race along side them, play with them and even hug and kiss them!
Guests will board one of our ferry boats for a short 20 minute ride to Sanctuary Bay, a 9 acre natural facility and home to 12 Atlantic Bottlenosed Dolphins. After a briefing from your professional training staff, guests will enter the water 6 at a time to begin their program. Guests will enjoy spending time swimming with the dolphins, racing, submerging and asking the dolphins to do basic commands. Our professional photo staff will be available to capture this experience for you.

After the program spend time enjoying the scenic view and look at several Macaws and Cockatoos. After the program enjoy lunch or a snack at the Dive In Marina Bar & Restaurant (own expense).

Note: Guests must be 55" or taller to participate in this program. Pregnant women are not permitted on this program.
A parent or guardian must participate in the program with children under the age of 16. Guests are not permitted to wear tanning oils or excessive amounts of sunscreen. Jewelry should be removed for the safety of the dolphins. Photos are available for purchase after your program.