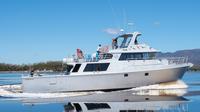 944 €
L'activité n'est pas disponible, essayez une autre recherche !
Derwent River Charter Cruise on the 'Odalisque' from Hobart
Entertain a group up to 40 people with a chartered cruise on Hobart's Derwent River. On board a private 65-foot (20-meter) vessel, enjoy comfort, space, and stability as you delight, charm, and impress your friends, family, or colleagues with an experience suitable for corporate functions, holiday parties, birthdays, or any occasion that requires a voyage. Regardless of the size of your group, big or small, you can enjoy a tailored day on the water; charters are also offered from Hobart to locations within Storm Bay and D'Entrecasteaux. When booking, select the duration you prefer for your charter, from three to eight hours.
Your day cruise begins as you step aboard the Odalisque from your pre-arranged pickup point at a waterfront location in Hobart. Depending on the option you select when booking, you'll be on the boat for three to eight hours. For a lunch or evening cruise, three hours is sufficient; or perhaps book five hours to venture further down the channel and see more of the Tasmanian coastline and look for marine life. Or book the whole day to cruise to Bruny Island, maybe stopping for a swim or a snorkel on the way at a secluded beach, have lunch in a private bay, and then enjoy evening drinks on board while you soak up the view on the return voyage.

Day charters are also offered between Hobart and locations within Storm Bay and D'Entrecasteaux. Whether your group is 14 or 40, you can customize a wonderful day on the water.
A fully equipped kitchen is available on board, and you can arrange with the chef to design a menu fit for any occasion—from simple, hearty platters to a degustation of fine Tasmanian fare. The boat is a fully licensed venue and features an extensive Tasmanian wine list, plus local beers and boutique cider. Food and beverages are available at an additional expense by inquiring with the local tour operator (contact info provided on your booking voucher).

When your time on the boat is up, you'll return to your pickup location.