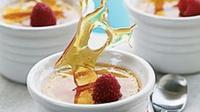 104 €
L'activité n'est pas disponible, essayez une autre recherche !
Decadent Desserts Cooking Class on the Sunshine Coast
Great cooking is not just about the recipe, it is also about technique. Take part in a cooking class on the Sunshine Coast and be inspired to create decadent desserts. Your expert instructor will teach you skills to make you a culinary star. Get away with anything and show off your sweet side, with these mouth watering desserts under your culinary belt.
Everyone always remembers the dessert, regardless of how good the other courses of the meal are, it's always that dessert that will be talked about for weeks after your dinner party.These desserts are some of the most popular in the world, and have been refined by chefs everywhere. Now you can learn how to master them as well and satisfy even the sweetest toothed guests.

During the cooking class you will learn to cook Creme brûlée, individual coconut pavlova,raspberry coulis and Demi's decadent chocolate brownie.

You will have the chance to use the "tools of the trade" in an environment to rival any top restaurant or cooking show, set up with your learning and entertainment in mind. You will receive a hard copy of all the recipes, that will allow you to recreate the dishes for your friends and family and have a day/evening of unforgettable fun without even having to do the washing up! You will then sit down in the relaxed dining area, to enjoy the dishes you have just made, with a complimentary glass of wine or beer.
* Please ensure that you are wearing enclosed shoes, and long hair tied back please.