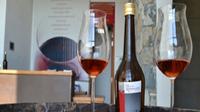 24 €
L'activité n'est pas disponible, essayez une autre recherche !
Day Trip to Wine Villages from Limassol
Visit renowned wine villages in an effortless journey through beautiful scenery to experience a stronghold of traditional wine making with an excellent choice of local wines.
Be picked up from your hotel and taken to enjoy the famous wine regions. Nowhere else in Cyprus is such a great presence of wineries as in these wine growing villages of Lemesos (Limassol) district, known locally as Krasochoria, the Wine Villages. In Omodos there are 10 such wineries. The route is outstanding, not resembling any other. A dry climate combined with a unique geology is responsible for some excellent wines, made mostly from the local grape varieties Xynisteri and Mavro and also from some imported ones, such as Cabernet Sauvignon, Mataro, Grenache and Syrah.

You will be taken to taste what this route and its special wines have to offer, whilst seeing the wonderfully unspoilt villages with their traditional architecture, cobblestoned narrow passages and cheerful surroundings, many of which host some for the best tavernas in Cyprus.

You will then be returned to your hotel.