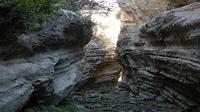 30 €
Day Trip by Mini Bus to Akamas From Paphos
Looking for adventure then Akamas day trip is highly recommended. Start your tour with pick up from your centrally located Paphos hotel. Start your day enjoying the flora and fauna of the Avakas gorge before heading to Lara beach to see the turtles nesting in their natural habitat. Before heading to the conservation project to learn about these ancient animals. Finally explore the sea caves before heading back to your hotel.
The first stop will be Avacas Gorge, a trekker's paradise, offering spectacular views and a plethora of local flora and fauna, including the endangered centauria akamantis, an endemic plant found only in the gorge. The gorge itself is carved out of limestone rock rising as high as 30 meters and narrowing dramatically at one point.

Our journey continues along the coastline towards Lara Bay, the nesting ground of two species of marine turtles, the green turtle (chelonia mydas) and the loggerhead turtle (caretta caretta). Learn about the Lara Turtle Conservation project, the life of these animals, and see their nests. If you are lucky, you might even see the baby turtles hatching (end of July to October). There will also be some time for swimming
at this secluded paradise beach.

Our next stop will be Saint George Church, where three early Christian basilicas and a bath were found and excavated in the 1950's. There will be free time for lunch.

On our way back to the hotels we will see the Sea Caves, the mysterious wave cut 'sculpture' formed out of the natural rocky shore and beach caves.