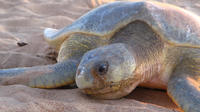 193 €
Darwin Sunset Turtle Encounter
A sunset adventure to see the nesting sea turtles on Bare Sand Island, a remote island 1.5 hours from Darwin by fast boat.
Leaving Darwin at 4pm on a date especially picked around the lunar cycle, your cobwebs will be blown away as Darwin Harbour is left in the wake of your fast boat. With the warm breeze on your face and the smell of salt in the air, life will become surreal as you skim over turquoise waters on the way to the nesting ground for flatback and olive ridley sea turtles.

Keeping your eyes peeled for marine mammals and reptiles, your journey will take you past historic Charles Point Lighthouse into Bynoe Harbour, arriving at a remote beach in time for the sun set. Explore the island with your local turtle guides and learn about the ancient marine creatures, the island's unique war history and the traditional ownership of the land. As you experience day turning to night, you will be privileged to see that amazing tropical sunset color the sky.

Back on board your bento meal will delight, and then after twilight fades, Team Turtle will take you for a guided walk to witness the egg laying ritual. For those who take this adventure late in the season you may witness the eruption of baby turtles from their home under the warm sand. A fast boat ride will get you back to Darwin, with memories that will last a life time.

This tour is conducted around the lunar cycle – full moon and new moon are the best times to see the turtles. Nature dictates your experience and return time – the females usually come up around sunset, although there are no guarantees. The tour will return later if babies are hatching. Note that nesting turtles or hatchlings cannot be guaranteed on any tour though in 2016 our 100% of our guests experienced a turtle encounter.  This cruise Advanced Eco and ROC Accreditation and is conducted by an award winning local Darwin company.  All turtle watching permits are in place as required by local authorities and the Island's Traditional Owners.