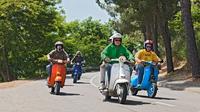 60 €
L'activité n'est pas disponible, essayez une autre recherche !
Darwin City Sights Scooter Tours
Fresh, exciting and hands on - the only way to see Darwin. This is the ultimate way to see and experience the Top End. The warm balmy climate makes scooters the ultimate way to get outdoors and see what the city of Darwin has to offer. Join an experienced guide and listen to their commentary as you ride through Darwin, from the city to the coast, taking in the major sites. This is the most exciting and active way to see Darwin.
All you need is some closed toe shoes and a car license and you will be provided with the rest on a comfortable and modern 50cc Scooter which you will ride yourself. Scooter tours leave from the heart of Darwin CBD on Mitchell Street.

Some of the highlights you will see on tour include: Parliament House, Supreme Court, Government House, the Waterfront, Mindil Beach, Vestey's Beach, Darwin's gourmet hotspots, East Point – WWII Site, Cullen Bay, Stokes Hill Wharf and the Qantas Hangar 1934.

Morning Tour
This is a two hour option which includes a famous Pauls Top End Iced Coffee to get you started followed by the Scooter Tour of Darwin.

Seafood Lunchtime Tour
Our new Seafood Spectacular Lunch Tour where you will experience Fresh Seafood from Darwin Fish Markets prepared for you by MasterChef Rachael Ciesiolka (Masterchef 2014) along with your 2 Hour Scooter Tour of Darwin. Not only will you be sampling some of her fantastic recipes, she will give you a mini cooking masterclass including how each dish was made and some secret tips for cooking seafood at home. On top of this you will walk through the fish market and see the fantastic local seafood caught up here in the Top End. Rachael has prepared 4 different lunch options for your tour.

1. Prawn Roll Platter. A beautiful mixture of both fresh Banana and Tiger Prawns!
2. Fresh Snapper or Barramundi Gourmet Burger Platter
3. Our favourite, the yummy Seafood Chowder Platter
4. Fish Taco Platter!

Afternoon Tour
This includes a two hour Scooter Tour of Darwin and includes a drink voucher to quench your thirst at a famous Mitchell Street venue afterwards.

Sunset Outback BBQ Dinner Tour
A 2-hour scooter tour of Darwin followed by an Aussie BBQ dinner overlooking the water watching one of Darwin's famous Sunsets. There is simply no better way to end the day. To finish up you receive a complimentary drink at the famous Monsoons nightclub on Mitchell Street.