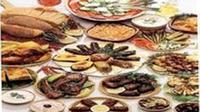 30 €
Cyprus Night with Folklore show from Paphos
Enjoy an evening of wining,dining and dancing Cypriot style!

Enjoy an evening of wining, dining and
dancing Cypriot style!
Join us for a fun evening at a local
traditional village taverna where you
will be served a Cypriot Meze giving
you the opportunity to try a variety
of local dishes while enjoying a show
of Cypriot folk dancing, music and
unlimited wine.
In Cyprus, a meze is often a meal in
its own right. There are vegetarian or
meat mezes. Groups of dishes arrive at
the table about 4 or 5 at a time (usually
between five and ten groups).
There is a set pattern to the dishes:
typically olives, tahini, salad and
yogurt will be followed by dishes
with vegetables and eggs, then
small meat dishes alongside special
accompaniments, and finally more
substantial dishes such as meat stews
and grills.
Establishments will offer their own
specialities, but the pattern remains the
same. Naturally the dishes served will
reflect the seasons.
As so much food is offered, it is not
expected that every dish be finished,
but rather shared at will and served at
ease.
Eating a Cypriot meze is a social event.