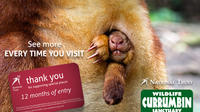 70 €
L'activité n'est pas disponible, essayez une autre recherche !
Currumbin Wildlife Sanctuary: 12 Month Membership
Spend a day at Currumbin Wildlife Sanctuary, home to the world's largest collection of Australian native animals. There is so much to see and do -- cuddle a koala, get up close to a crocodile or check out reptiles, birds and marsupials in amazing wildlife shows and displays. With this 12 month membership pass you will enjoy discounts for food and drinks, the retail store, photography packs, kids parties, segway rides and free parking.

Discover and rediscover Australia with Currumbin Wildlife Sanctuary annual membership! You will be engaged with the states rich history and actively connect with the community in a timeless journey through volunteering, amazing stories, and events. Check out some of these great places your membership gets you access too!


Unlimited Entry into Currumbin Wildlife Sanctuary
15% discount off retail in Currumbin Wildlife Sanctuary
15% discount off food and beverage at Currumbin Wildlife Sanctuary
Free parking at Currumbin Wildlife Sanctuary
15% off photography at Currumbin Wildlife Sanctuary
10% off kids parties (10% per person)
15% off full Segway Tours
Discount coupon for a free kids sailing lesson with Southport Yacht Club (Gold Coast)*
Discount coupon for Currumbin RSL (Gold Coast)*
A discount coupon for Crystal Castle (Tweed Coast)*
A discount coupon for National Geographic Kids Magazine*
Please note: the above inclusions are subject to change. Please call your local operator for current offers! Coupons are limited and time sensitive.