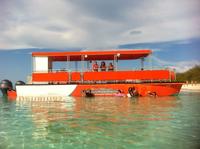 52 €
L'activité n'est pas disponible, essayez une autre recherche !
Cultural Harbor Tour of Nassau
Discover the authentic flavors, treasures and colors of the Bahamas on this 90-minute harbor cruise of Nassau. This is the tour you won't want to miss! The tour will leave you more knowledgeable about the colorful Bahamian people and the cultural sights. Have a safe, fun, unforgettable, true island experience while learning of the local culture and even the Bahamian lingo too!
Your professional team of guides is 100% Bahamian and this harbor tour is down home, up close and personal. Your tour will begin at Woodes Rogers Walk which is located behind the Straw Market where you will board the boat. Then you will head out into the Nassau Harbour to begin the 90-minute tour.

Your expert guide will not only give you a tour about the historical sights, but will also give you even more interesting, colorful facts about this wonderful country that only a down-­home Bahamian can tell you. Avoid the hustle and bustle of the streets and enjoy a relaxing, intimate, informative tour of picturesque Nassau. Along the way, you will meet fabulous people and take truly memorable pictures. You are guaranteed to hear and see everything and you can laugh out loud!

Once the tour is done, you will be transported back to the original destination.