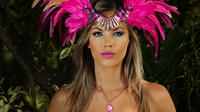 79 €
L'activité n'est pas disponible, essayez une autre recherche !
Cultural Carnival Headpiece Making Class
Experience the excitement of being a part of a cultural explosion. Ever wondered exactly what locals go through to make their costumes for these big cultural events? In the Bahamas' case, these events would be junkanoo or carnival. You can now have the experience of making your very own junkanoo carnival head piece and learning about who Bahamians are culturally. Discover while learning and interacting with the local guide who will take you through the fast paced, invigorating fun of what it is to make your own head piece and wear it with pride in this 90 minute cultural class.
This class has four different start times: 8am, 10am, 12pm and 2pm each day. The group will meet at the designated meeting spot and your guide will be holding up a sign to find everyone. The class will start off with a simple ice breaker and then get into the history of the Bahamian people and their different cultural festivities. Then, the fun part begins which is making your very own unique headpieces. At the end, there will even be a competition for the best creation and best headpiece selfie. Also, everyone will  receive free bottled waters, special souvenirs and country maps.