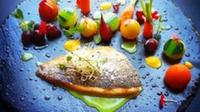 104 €
L'activité n'est pas disponible, essayez une autre recherche !
Crispy Skin Salmon Cooking Class on the Sunshine Coast
Crispy skin salmon, the coasts favorite dish. Learn how to cook it perfectly every time during this four hour cooking class. You will also be taught how to cook the perfect mashed potatoes before finishing up your class with learning to make a delicious sticky date pudding with salted caramel sauce.
Whether it's fresh from the trawler or from your fish monger, the best tasting salmon is only as good as you cook it. You will be taught how to achieve the perfect salmon every time - with the crispy skin.

How do the French make their beautiful fluffy mash potatoes? Your French fine dining chef will teach you how to make this and the wonderful Beurre Blanc sauce to accompany your menu.

To finish the menu you will be taught to make the ever popular sticky date pudding, but with your chefs own twist, of salted caramel sauce.

During the cooking class you will learn to cook crispy skin salmon, asparagus with Brurre blanc sauce, Long beans with toasted shaved almonds, fluffy french potatoes, sticky date puddings with salted caramel sauce.

You will have the chance to use the "tools of the trade" in an environment to rival any top restaurant or cooking show, set up with your learning and entertainment in mind. You will receive a hard copy of all the recipes, that will allow you to recreate the dishes for your friends and family and have a day/evening of unforgettable fun without even having to do the washing up!

You will then sit down in the relaxed dining area, to enjoy the dishes you have just made, with a complimentary glass of wine or beer.

* Please ensure that you are wearing enclosed shoes, and long hair tied back