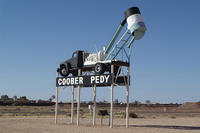 10 €
Coober Pedy Old Timers Mine Self-Guided Tour
Visit Coober Pedy's Historic Old Timers Mine, voted South Australia's best tourist attraction in 2011. Explore the 1916 opal mine, historic museum and underground home. Watch the mining machine demonstrations, visit the opal showroom and look for your own opal in the noodling pit, and see how the Old Timers in Coober Pedy lived and worked. This is a family affordable and educational experience, one you will not forget.
Experience the underground history of Coober Pedy on a self-guided tour of the Old Timers Mine. Don a helmet and experience life as an opal miner and the lifestyle of underground living.

The attraction incorporates two underground hand dug homes 1918 to 1990, the 1916 hand dug opal mine, two sandstone sculptures and many displays in the museum. This is the only place in the world where you will see three large good quality rough opal seams and opalised sea shells in the roof. Search for own opal in our noodling pit. Watch the demonstrations of Opal Mining machinery and there is the opportunity to purchase opal jewellery or souvenirs from the underground opal showroom.